BCSPCA
A SPRINT UI Website Redesign
Type
Academic
Timeline
1 Week | 2021
Role
UI Design | UX Writer
For our Sprint group team The Pet Detectives . We're a design solution team focused on creating products that are intuitive and easy to use. Our #designforgood challenge was representing the British Columbia Society for the Prevention of Cruelty to Animals. The BCSPCA's mission is to protect and enhance the quality of life for domestic, farm, and wild animals in British Columbia.
Problem Space
Millennials (aged 26 to 40) are one of the most philanthropic demographics and animal lovers. However, they are also the least committed to donating due to a lack of trust and, therefore, are choosier about understanding exactly what their donation is contributing to.
When it comes to animal charitable donations, surveys show that the lack of transparency deters people from donating money. According to a Blackbaud report published in 2018, millennials were responsible for only 14% of overall donations due to a lack of transparency.
Secondary Research
"Charity scams are on the rise, increasing nearly 70% since 2019,
Only 7% of the total amount that people 'donated. went to animal charities.
The Millennial Impact Report stated that "Millennials give, and give again, when they can see and measure their influence. It is critical for millennials to see where their money goes and how their contribution makes a tangible difference.(pause) Building trust with this generation is a long-term investment in donor retention and future giving".
So overall we found that
Scams around charities are very high.

The share of money donated that goes to animal organizations is low.

Building trust with Millennials is a long-term investment in donor retention and future giving.
And finally, Millennial donors want to be involved in the donation process and want to feel connected to it.
HYPOTHESIS
Our secondary research supported the problem space that millennials are weary of giving away money to charities.
This brought us to our hypothesis:

We believe millennials require transparency and clarity from animal welfare organizations in order to confidently contribute a donation.
We are also certain of two assumptions:
1. We believe that millennials do not donate money through websites that lack the necessary information they consider important in order to donate to the cause.
2. We believe millennials are suspicious about how their contributions are utilized within charitable organizations.
This led us to our How might we statement.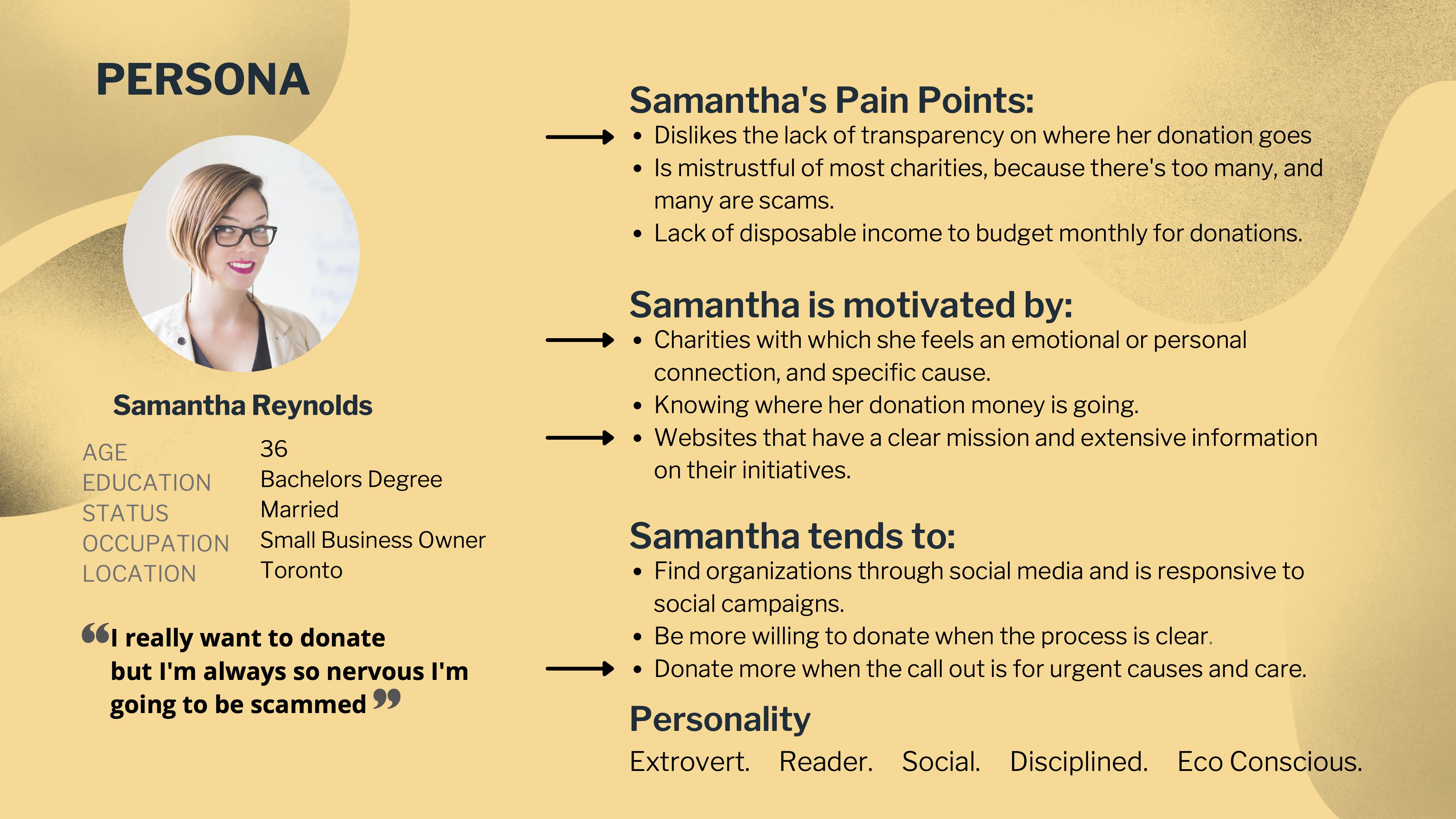 Persona
We created the persona Samantha based off the interviews pain points, motivations, goals and frustrations . This helped step out of myself and my needs and start to empathize with the user in order to create a better final product.
Samantha main pain point is
an apparent lack of transparency on where her money goes once she's donated to a cause.
Samantha is motivated by
finding a personal or emotional connection to a cause.

Having choice and clarity of where her money goes.

And websites that have a clear mission backed by data
Samantha finds Charities through Social Media and doesn't hesitate as long as the process is clear, accountable, and centers around Urgent animal causes.
Interview Findings
Our interview findings proved our assumptions to be true:
Users want to see how their money is being spent

They are more likely to donate during emergency situations

And Want to be connected to the donation process
SOLUTION SKETCHES
The BC SPCA is committed to achieving the highest standards of transparency and accountability in all its activities, which has resulted in several awards and credentials.
However, from the user perspective, it is not very clear from the first visit to their website.We created our solution sketches, then our first prototype.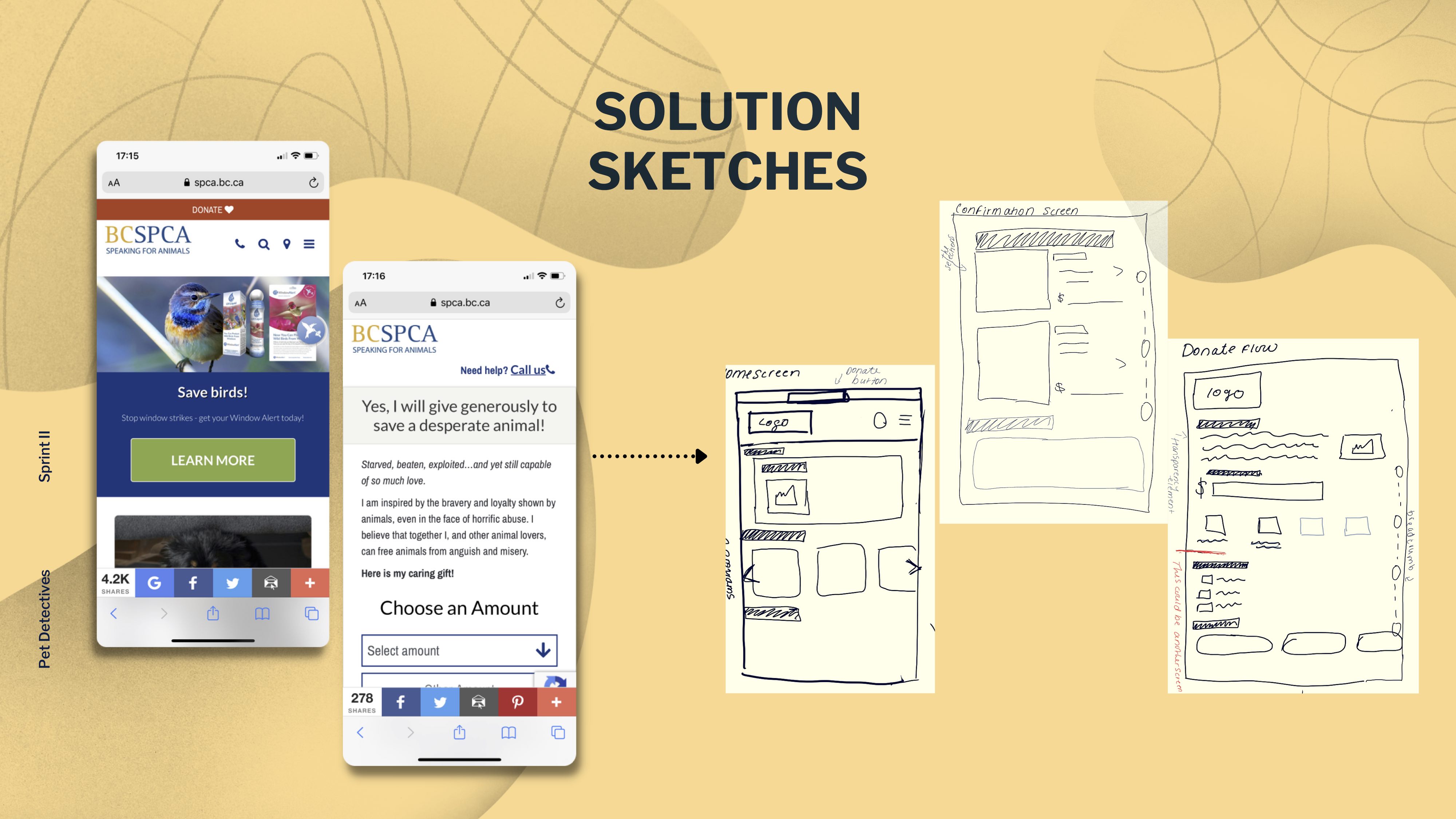 Design Process
1. We created a clearer CTA donate button
2. Added more information across the donation screens
3. Added a Final confirmation of where the funds are going
We created a prototype, that we user-tested, and from the feedback, built out our second iteration.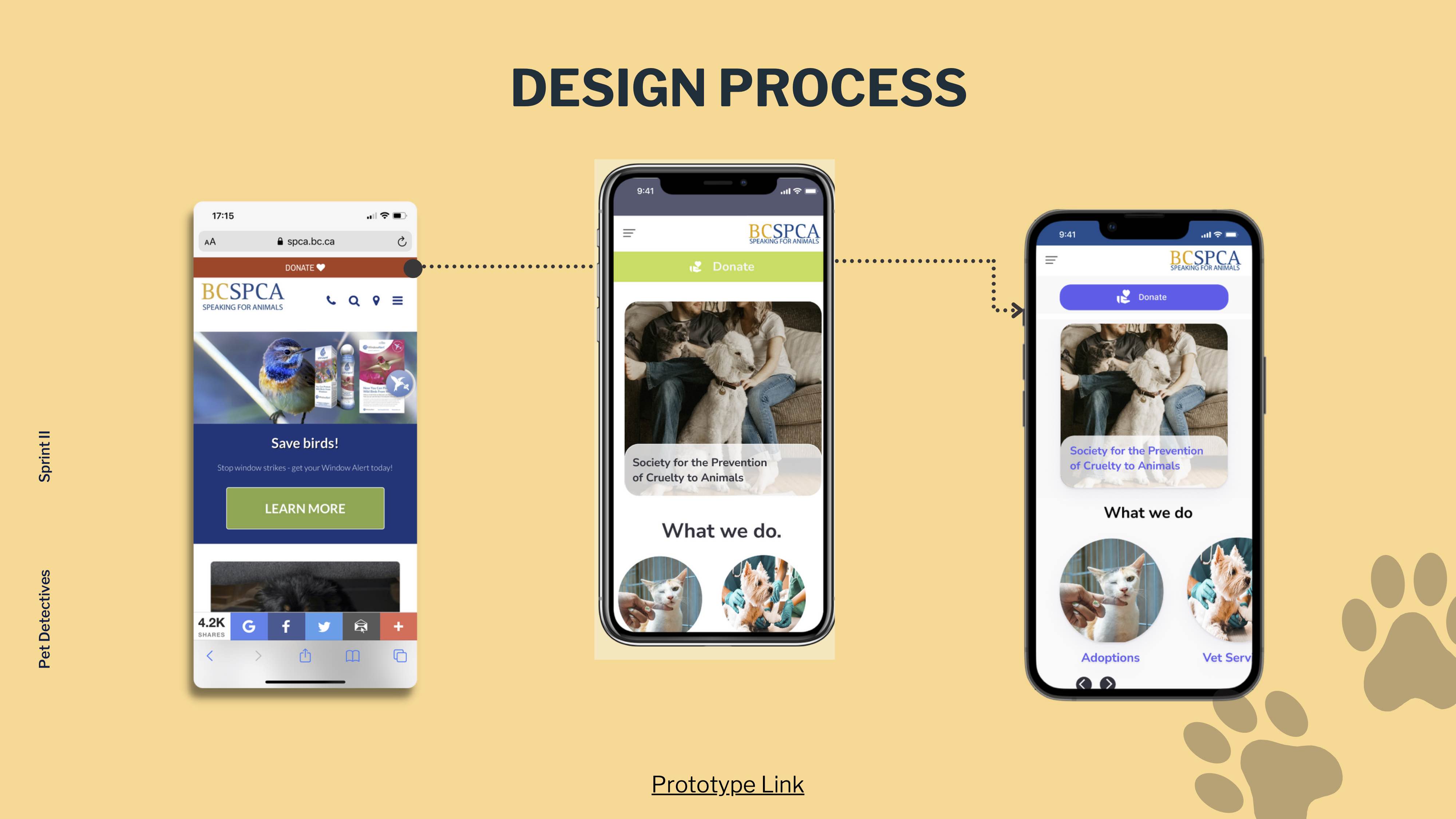 The major changes we implemented were:
Major Changes
1. Clarity on the donation screen, removing the icons
2. Confirmation page, another breakdown of how the money is being used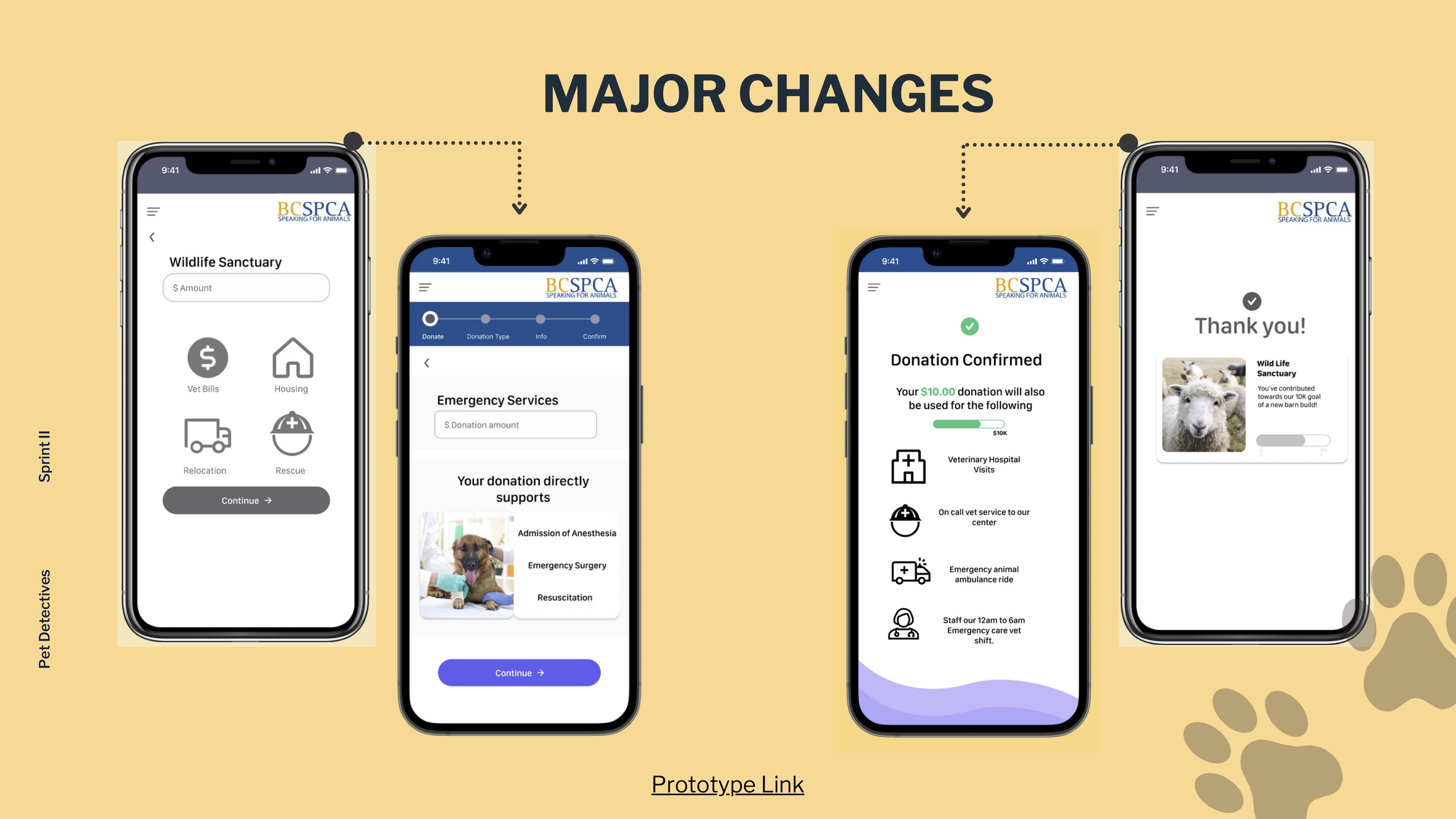 Next Steps
The next steps would be for the Pet Detectives to investigate how Gen Z currently interacts with monetary donations and how we can apply that to our digital solutions for the British Columbia SPCA.